Meet my newest project. She's a real beauty, don't you think?
This is master bedroom in all it's pink and wood glory.
This room has some great potential. For starters, behind that open closet door, there's the cutest little dresser built into the wall. Then there's the wood floor, which is going to look as gorgeous as my hallway floor when it's all said and done. And, I think the slope-y, cottage sort of shape to the room is charming.
That said…To say I am lacking enthusiasm to do this room is an understatement.  It needs to be done. I know I'll love it when it is done. But, oh me. I've about had it with painting wood walls. Nothing to do about that but just go for it, right? So here's my plan. White walls, refinish the floor, and paint some sort of cool, calming color on the ceiling. Beyond that, I'll have to do some Craigslist/junk store shopping to finish things out.
I'm thinking an iron bed, if I can find one. The room is small, and I don't want anything big or visually clunky to fill up the space. (click on pics for source)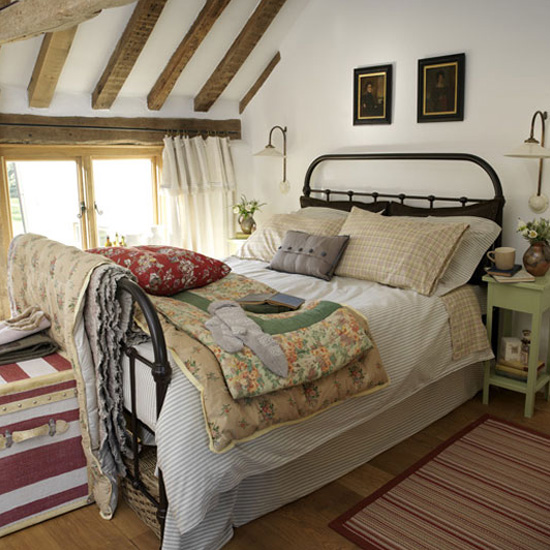 If I can't find one for a decent price, my second choice would be to have a solid wood headboard. I really love some rustic looking wood against a light wall. (I couldn't find the source for either of the below photos.)
A small touch of green will be a necessity. My new entry rug is at fault for that. I'm hooked on green.
I'm a total sucker for an interesting side table. I love this trunk…anything that can serve as storage is a major plus.
And lastly, lamps are must…since there is no overhead light. Boo! I like wall mounts the best. They don't take up floor/table space and they are one less thing for me to knock over…since I'm pretty much the most clumsy person on the planet. These DIY clip on lights might just be the cutest things EVER, not to mentions simply brilliant!
Well then, it will be fun to see what of all that I can actually accomplish. It's always best to have an open mind when working with a small budget and thrifty finds. You just never know what will turn up and change your plan completely! My goal is to have a finished room in three weeks…so um, I guess that means I'll have to do something  more productive than just daydream about it, huh? Off we go!
Exodus 15:2   The LORD is my strength and song, and he is become my salvation: