Doors are pretty average things in a house, and so are walls for that matter. Most of us analyze paint cards and paint samples with great attention, and think long and hard about paint colors for walls…why not for doors? I'm a big believer in making any ordinary "bone" of a house, as un-ordinary as humanly possible. If you've got to look at anyway, make it art! One really easy way to do this, is to not overlook the doors! I knew I was going for white walls and trim through the entire house. I wanted the doors to the main rooms (not closet doors) to break up all the white, and to contrast sharply, so I went for black painted doors.
Here is a shot of the front hallway in my house before I painted it.
Here is that same hallway after paint. (Please disregard the stairs, they are still on my "to paint" list!)
A black door looks sharp, rich, and classic. Of course I left the under stair closet door white, because I want that door to blend in with the wall. Here's another example of my entry, which had an ugly brown color on the inside.
And some paint later…it actually looks like a nice door!
This is a hugely simple way to make even a cheap, standard grade door appear nicer than it actually is. Painting doors is very budget friendly too, one gallon of paint will easily do all the doors in your house. If I get a hankering to paint all the doors green next year (and I might!), I can do it without braking the bank over it…great news for my Mister!
Painting a door doesn't require any crazy skills either, it's perfectly doable for us non-arty types! I don't take it off the hinges or anything complicated like that. I just cut it in with a paint brush, then I use a mini roller do the rest. Watch out for drips at the corners if there is a design on your door! This is an example of the roller I would use for this type of project.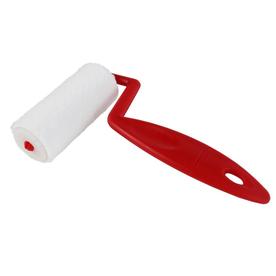 There are one or two negatives to a black painted door. You can see finger prints really easily. You can also see dust very easily. Personally, I don't mind either of those things. I like to know when things are dirty, I'd rather see it than not know it's there! I like black accents because it's the eyeliner for a room…it just adds that touch of darkness that highlights the lightness, make sense? You certainly don't need to choose black for a door though…try loading up on some color to freshen up a room! (click on the picture for the source.)
Painting just one door a different color may be just enough to completely change the feel of a room. Have you ever tried painting a door in your house? Did you love it?
***Updated 6/4/14: The stairs have been painted! See their beautiful new look HERE.
Philippians 4:7   And the peace of God, which passeth all understanding, shall keep your hearts and minds through Christ Jesus. 
Linking to:
THESE great blogs
Between Naps on the Porch